Are you looking for a pretty and stylish way to keep your shoulders warm during the chilly Spring and Summer nights? Look no further than the Glitzy Bolero Free Crochet Pattern! This pattern is perfect for all skill levels, as it is an incredibly simple and easy pattern to follow. The Glitzy Bolero is a beautiful lace shrug jacket that comes in four sizes ranging from XS to 5XL.
This easy-to-follow pattern is great for all seasons, as the bolero can be used as a fashion accessory to pair with any outfit. With this Glitzy Bolero Free Crochet Pattern, you can create a unique bolero that adds a bit of glamour and sparkle to your look. From casual wear to fancy events, you'll be sure to turn heads with this gorgeous bolero crochet pattern. It is sure to become your new favorite go-to accessory for all occasions.
Whether you are looking for a lightweight shrug for chilly nights or a glamorous accessory for a formal occasion, this free crochet pattern is the perfect choice. Try it out today and create your own unique bolero that is sure to make a statement. Thanks Raffamusa Designs for sharing this free pattern. The link for the free pattern is provided below photo. Happy crocheting.
You might also like: The Ragged Falls Cocoon Shrug Free Crochet Pattern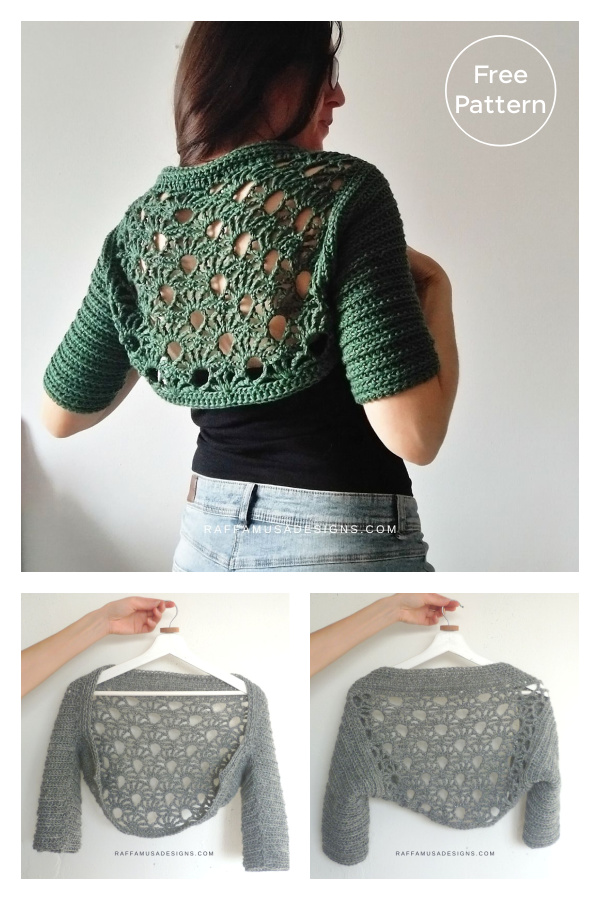 If you need easy-to-read PDF pattern, you can buy from here. Check below link for web version free pattern…